Spring Fundamentals (2013-2008)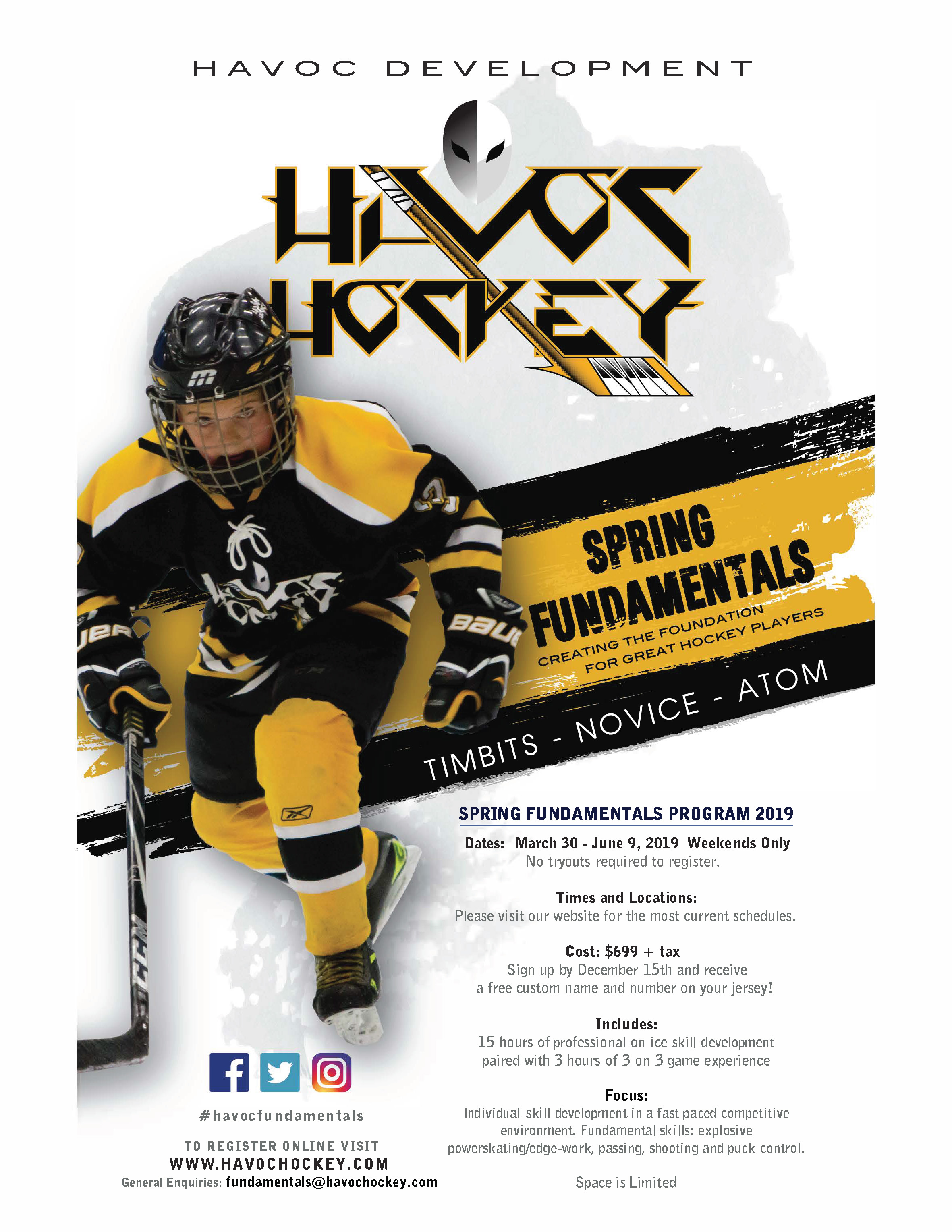 Age: 2013-08 Born
Date: See Tentative Draft Schedule below *NEW WEST CAMP!!!
Times: See Tentative Draft Schedule below (refer to FAQs for group assignment info)
Location: South - Great Plains/Seton/Rose Kohn. We have now started a new Camp based at Westside Sunday/Mondays!
Cost: $699+tx Sign up by December 15th and receive a free custom name and number on your jersey!
Coaching: Professional Coaching! min'm 3 coaches per group Nikita Korovkin, Jay Blakley, Kris Foucault, Justin Ostertag....click on the coaching tab for each Bio!
Limited to: 30 skaters & 2-4 Goalies (we have equipment to borrow for those younger players interested in trying the position) Please see FAQ's for goalie info. We expect the groups will be smaller as we have made 2 separate camps (West and South) for 2012-2011 & 2008-09 born
Details: Includes 15 hours of on ice instruction with professional coaching combined with 3 hours of 3 on 3 games. Registration fees also include Jerseys, socks, water bottles and helmet stickers. We are also excited to introduce Teamsnap as a tool for our coaches and organizers to track availability and keep everyone well informed leading up to and throughout the spring season. Our experienced coaches will use each ice time to focus on individual player development in a fast paced, competitive environment. Basic hockey fundamental skills covered include: explosive powerskating/edge-work, passing, shooting, puck control, puck protection, game like situations, battle drills and hockey IQ. No tryouts required to register.
Games: *New for 2019 we will be using 3 hrs out of the 18 noted above for the participants to play 3 on 3 (2013 born cross ice)! These games will take place April 19-20th, 2019 during Havoc Hockey's Easter 3 on 3 Tournament at Great Plains Arena! We guarantee 4 - 45 min full ice games (2 per day). Teams will be determined based on registration. This is a $150+tx value! Disclaimer: in the event there is not enough players to create 4 equal teams (9 skaters +1 goalie), there will still be 4 games but the rosters between 2 teams will change for each game instead of a tournament format. Those registered for Fundamentals can play with friends who register separately solely for the 3 on 3 tournament by request.
Registration: ***Click here to Register***
Note* When selecting a season please choose 2018-19. When selecting a division please choose "fundamentals"
**Please be advised, there will be no refunds/make up sessions nor credits**
Contact: fundamentals@havochockey.com *Please ensure you review the FAQ's prior to sending your questions as we receive a high volume of inquires with common questions that can be easily be answered by reading through the FAQ's. If you have a unique question we would absolutely love to hear from you and hope we can also use your questions to expand our FAQ page!
Tentative Draft Schedule: as of Jan. 31, 2019 - To be finalized/confirmed no later than Feb. 28, 2019. Please note the highlighted yellow times are TBC but the date is firm
Group #1 Timbits - Great Plains/Seton - Only 8 Spots Remaining!
Group #2 Novice - Great Plains/Seton
Group #3 Atom - Great Plains/Seton
Group #4w Timbits/Novice - Westside/Great Plain/Winsport - NEW! Westside Sessions are confirmed. Still working on the final details but this provides a good base schedule! Although it's not "weekend only", I trust this will work better since it will be much closer to home for many :)
Group #5w Atom - Westside/Great Plain - NEW! Friday nights at Westside!