Mascot Name Contest
---
Help us name our new Mascot! Contest ends Oct. 31st! To submit your recommendations fill out this form! If we select the name you suggested you will recieve free registration for any Havoc Hockey Develoment Program to a maximum of $350 including tx. This is good for players ages 3-13 years of age! You can gift the prize to a grandchild or friend (sorry no cash value). It can be applied to Preschool Academy, Kindergarten Academy, 2 on 2, 3 on 3, Specialty Camps, Fundamentals and Summer Camps. Expires August 31st, 2018. Limit of 3 entries per person. If duplicates are received the person who entered the name first will win the prize.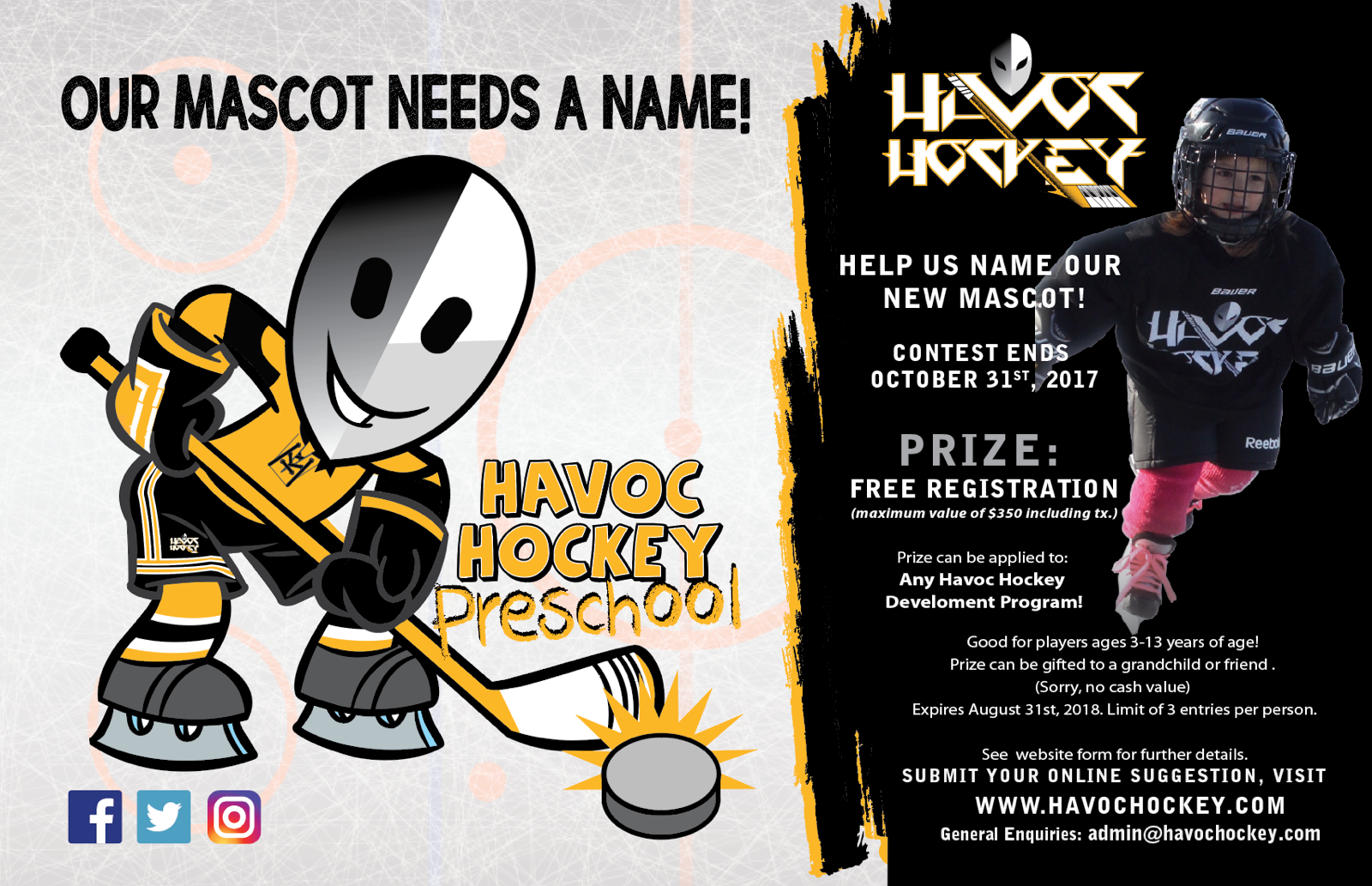 Names Received - Updated Oct. 12th, 2017
1. Flash
2. Panic the Puck
3. Blade
4. Howitzer
5. Rekker
6. Crash
7. Boomer
8. Sniper (x2)
9. Apollo
10. Dangler
11. Crusher
12. Ace
13. Wardon
14. Bullet
15. Ambush
16. Blaze
17. Havoc Hector
18. Havoc Hunter
19. Biscuit
20. Shadow
21. Hatrick
22. Dekester
23. Dekes
24. The Havoc Hyena
25. Frozen
26. JP: for Jacques Plante, the 1st NHL Goalie to wear a mask
27. Chaos (x2)
28. Hooligan
29. Slappy
Post your favorities on Havoc Hockey's Facebook, Twitter, Instagram!